Don't just take our word for it. Home Instead Of Alone, Inc is your number one choice for the best in dog boarding and training, and our customers know it. Since 1986, we've been providing the most extensive services to the Long Island area as well as the immediate surrounding areas to train dogs into well-behaved pets. You can use our coupon to get 10% off for boarding.
Contact us and let's get started! Click here for more testimonials. We serve Long Island and the immediate surrounding areas.
We will let our other clients speak for us
Thank You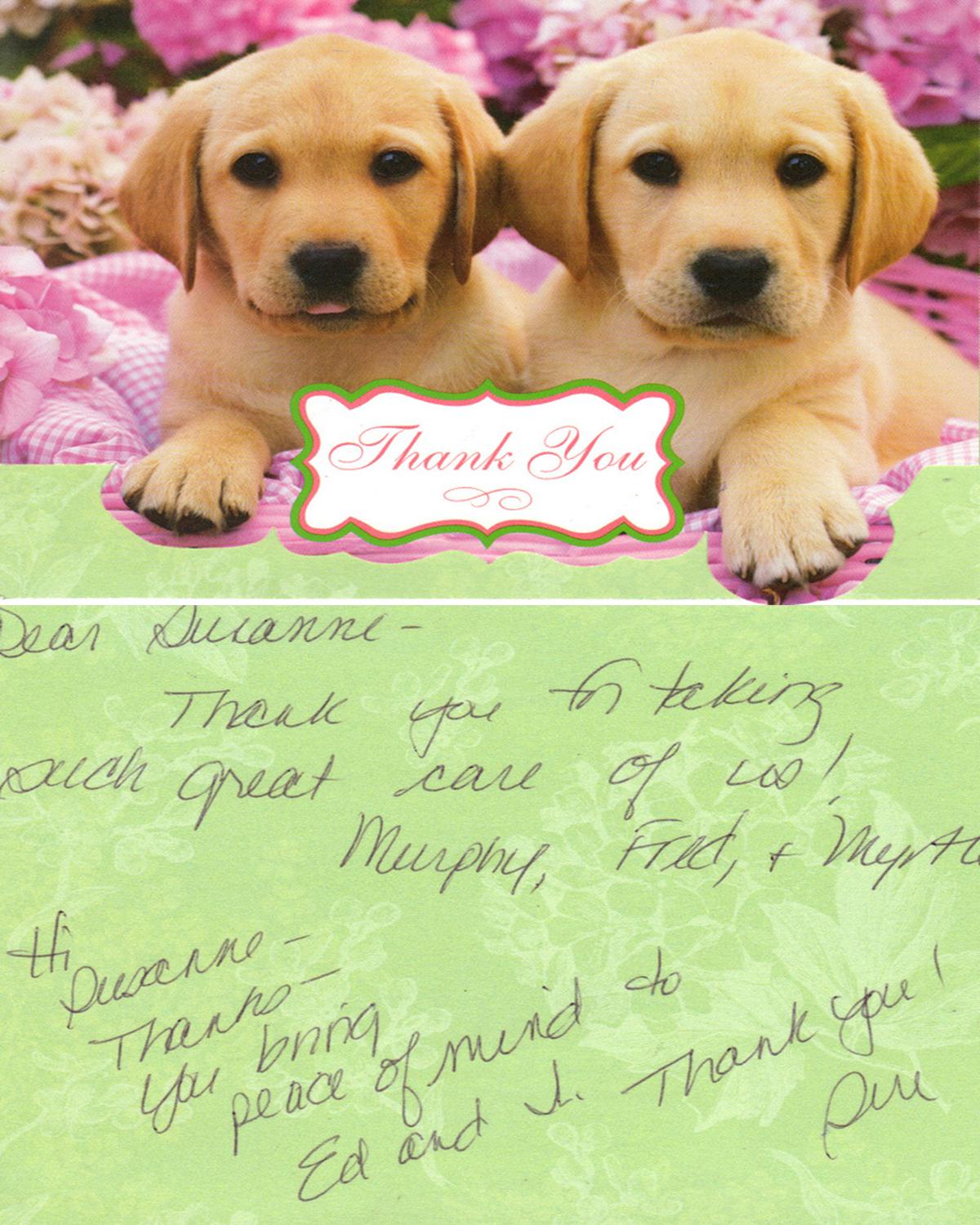 Top of card:
Dear Suzanne,
Thank you for taking such great care of us!
Murphy, Fred and Myrtle
Bottom of card:
Hi Suzanne –
Thanks! You bring peace of mind to Ed and I.
Thank You!
Sue
Sue
Thanks for coming into our lives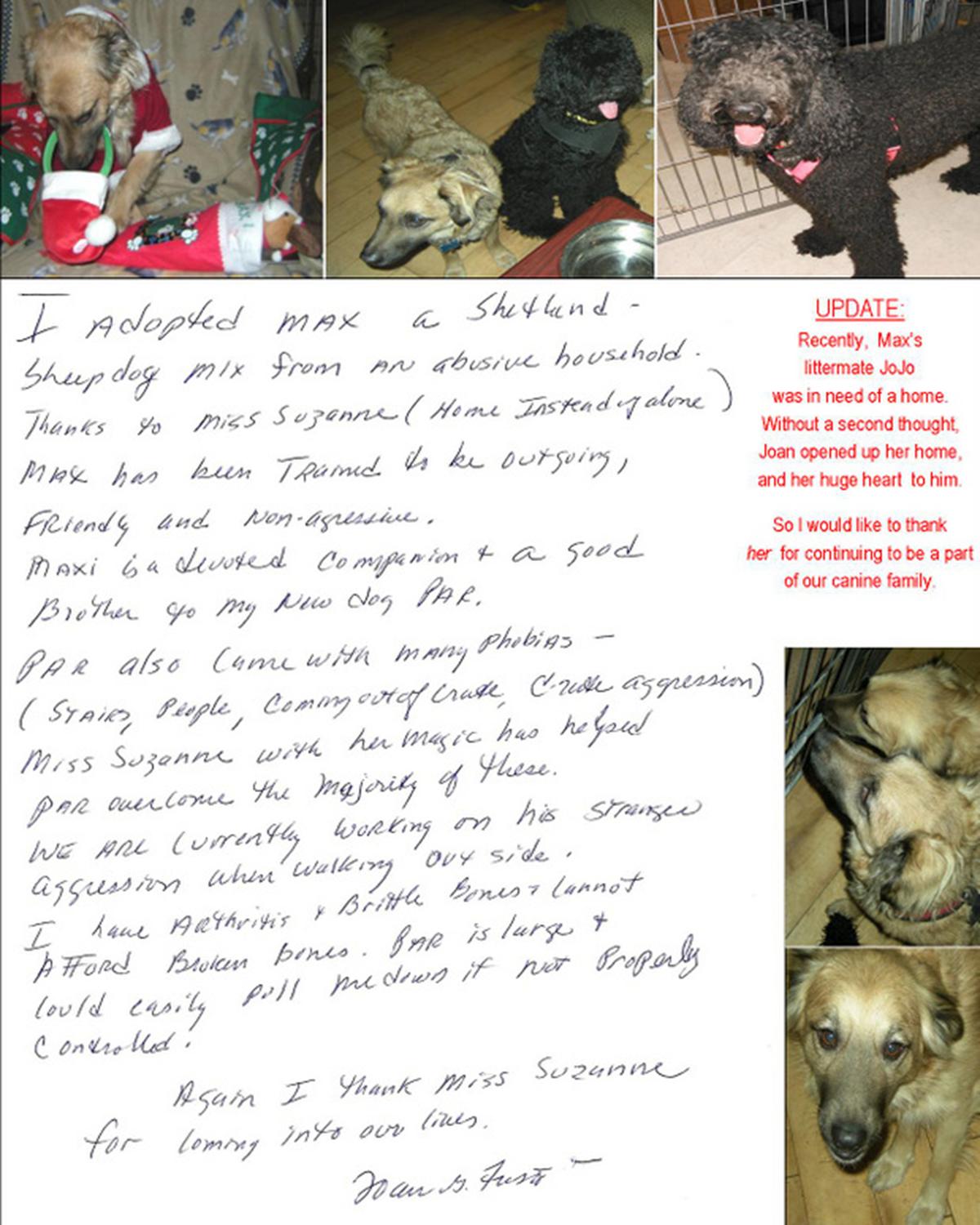 I adopted Max, a Shetland Sheepdog mix from an abusive household. Thanks to Miss Suzanne (Home Instead of Alone) Max has been trained to be outgoing, friendly, and non-aggressive.
Max is a devoted companion, and a good brother to my new dog Par.
Par also came with many phobias, (stairs, people, coming out of crate, and with aggression) Miss Suzanne, with her magic, has helped Par overcome the majority of these. We are currently working on his stranger aggression when walking outside.
I have arthritis and brittle bones, and cannot afford broken bones. Par is large and could easily pull me down if not properly controlled.
Again, I thank Miss Suzanne for coming into our lives.
…….Joan G. Fusco, Max, Par and JoJo
Joan G. Fusco, Max, Par and JoJo
Totally Different Dog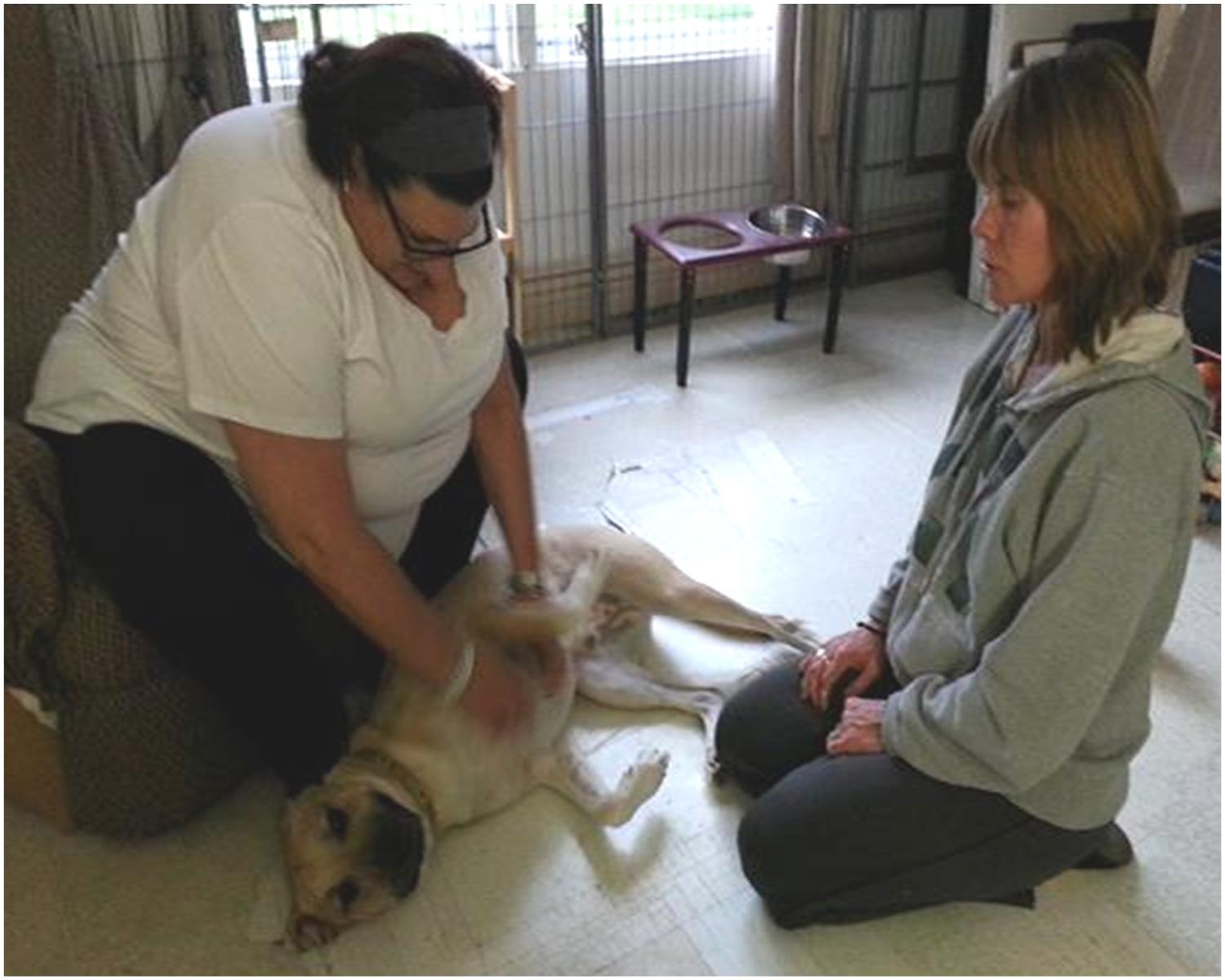 Buster had 'nipped' at a few people before if he stole something and did not want you to take it back from him. But when he bit my partner and broke the skin, as much as it broke our hearts, we thought we were going to have to bring him back to the shelter we had gotten him from. But after a few weeks of 'boot-camping' with Suzanne at Home Instead of Alone, he became a totally different dog! We now have the well-behaved loveable mutt we dreamed of!
And when if comes to us going away, we always check Suzanne's availability before making any plans, because we would not let anyone else watch him but her! And Buster adores her!
Sandi G., Gayle C. and Buster
Long Island Dog Whisperer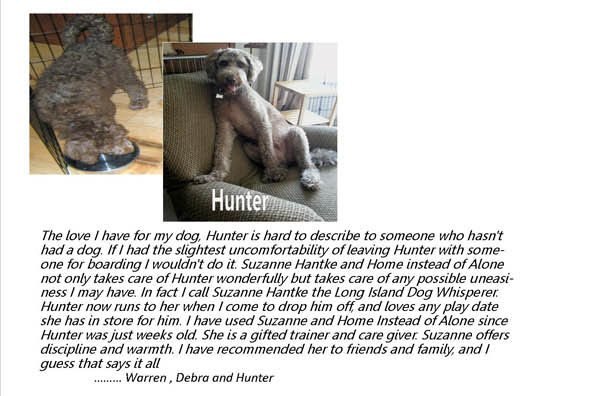 The love I have for my dog, Hunter, is hard to describe to someone who hasn't had a dog. If I had the slightest uncomfortability of leaving Hunter with someone for boarding, I wouldn't do it. Suzanne Hantke and Home Instead of Alone not only takes care of Hunter wonderfully, but takes care of any possible uneasiness I may have. In fact, I call Suzanne Hantke the Long Island Dog Whisperer. Hunter now runs to her when I come to drop him off, and loves any play date she has in store for him. I have used Suzanne and Home Instead of Alone since Hunter was just weeks old. She is a gifted trainer and care giver. Suzanne offers discipline and warmth. I have recommended her to friends and family, and I guess that says it all!
Warren, Debra, and Hunter
Highly Recommended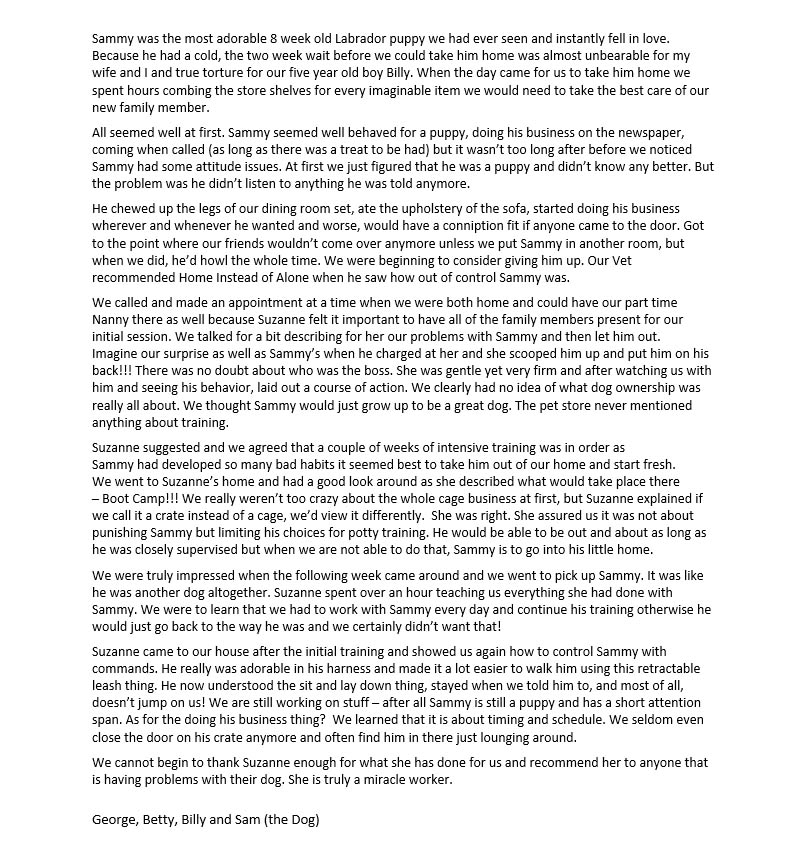 George, Betty, Billy and Sam (the dog)
Wasn't Disappointed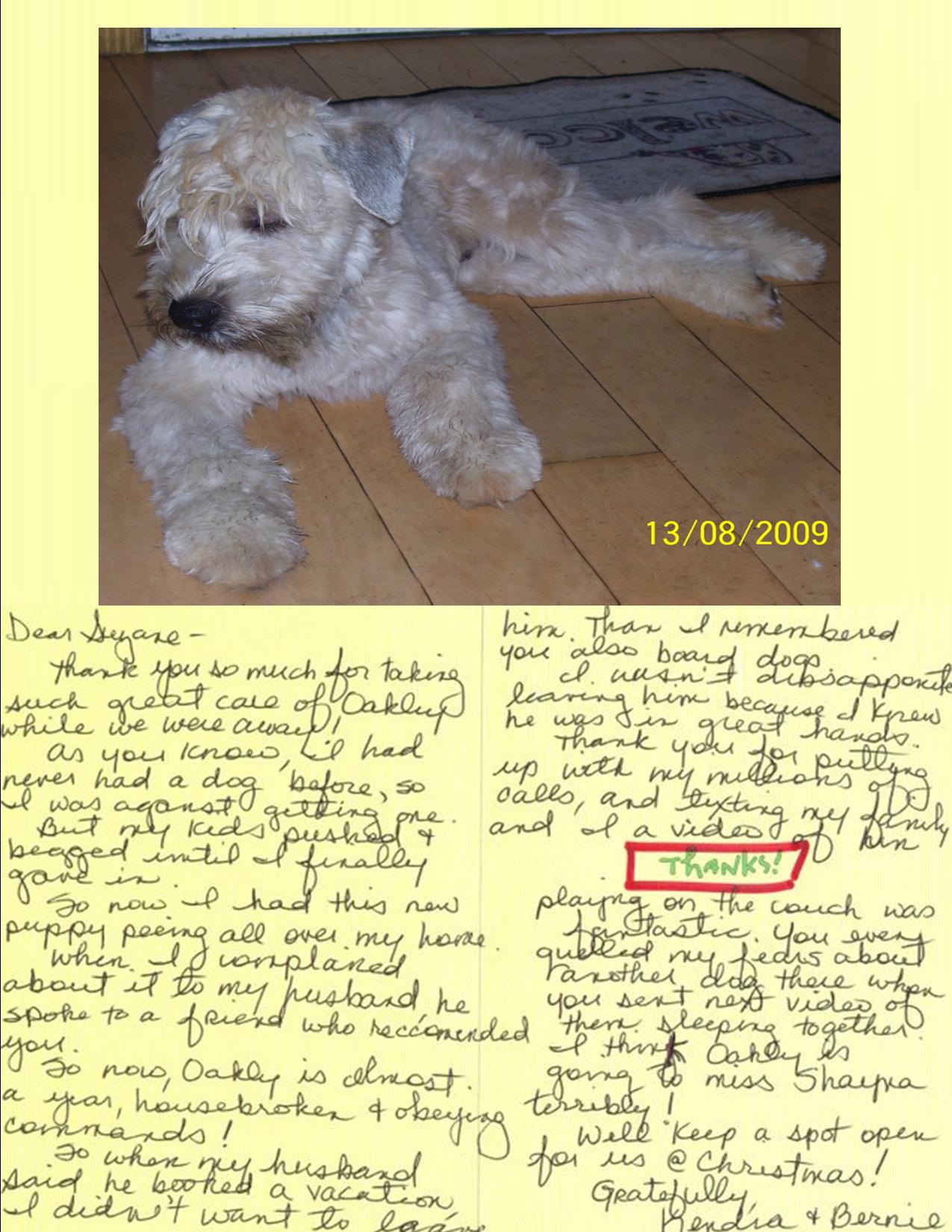 Dear Suzanne,
Thank you so much for taking such great care of Oakley while we were away! As you know, I had never had a dog before, so I was against getting one. But my kids pushed and begged until I finally gave in. So now I had this new puppy peeing all over my home. When I complained about it to my husband, he spoke to a friend who recommended you. So now, Oakley is almost a year, housebroken, and obeying commands! So when my husband said he booked a vacation, I didn't want to leave him. Then I remembered you also board dogs. I wasn't disappointed leaving him because I knew he was in great hands. Thank you for putting up with my millions of calls, and texting my family and I a video of him playing on the couch was fantastic! You even quelled my fears about another dog there when you sent the next video of them sleeping together. I think Oakley is going to miss Shayna terribly!
Well, keep a spot open for us at Christmas!
Gratefully,
Kendra and Bernie (and Oakley)
Loves All Shapes and Sizes
Dear Suzanne,
When my father became very ill, I did not know what to do with Duke, 175lb Mastiff. I knew I would be traveling upstate quite often for days at a time. I called several places to board him, but because of his size, they either refused or wanted to charge twice as much.
A Friend recommended a place that could come in a few times a day and let him out, but he was so used to being around me all the time. I didn't know what to do. I saw your ad, I figured what the heck. When I called, I loved your dog outgoing personality and it was obvious you loved the dogs. When you told me there was no extra charge for his size, I said, "sign me up!!" I called a three times the first day, and you said he was fine. But I guess you heard the sadness and concern in my voice, because three minutes after my last call, I received two pictures on my cell… one of you with him, and the other of him stretched across the couch asleep! I was thrilled! He looked liked like he immediately felt right at home! And because of that you were fine with me visiting when I was in town was an added surprise.
Sadly, my Dad passed away three days ago. Picking up Duke yesterday made me so happy! He looked great! He said goodbye to his new friend at your house, and jump in my truck.
I made a mental note that before the hustle and bustle of the daily grind began again, I wanted to write this to you – just to say thank you – not just from me, but from my entire family, who really needed me to be there for them. I was able to do that because I knew duke was fine.
Thank you so much!
Dominick and family
Sincerest Love and Affection!
Top of Card:
With Our sincerest Love and Affection!
Bottom of card:
We are so thankful that you are part of our lives. We are so happy with our Lexy because you helped us with learning how to be good doggie parents!
You are the best trainer and a special friend to our family!!
We Love You!!
Woof Woof!!!
Jackie, Eddie and Lexy
Well Trained Puppy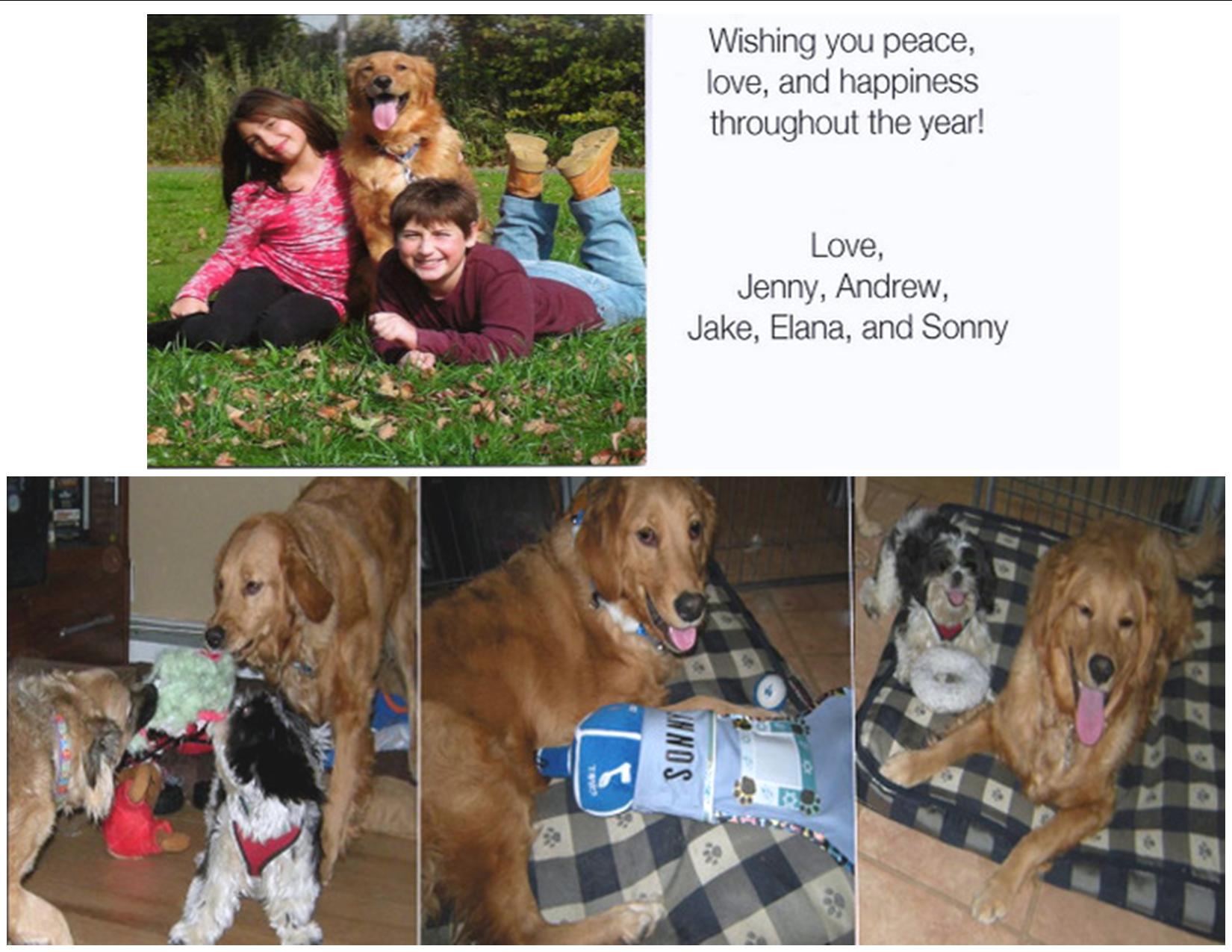 Suzanne has helped us with our Golden Retriever, Sonny, since his first day with us. Not only was she amazing with Sonny, but with my family and me as well. She showed my husband, my children, and I exactly what we needed to say and do with him in order to have a well trained puppy.
Suzanne was always a pleasure to work with each and every time she came to our home. If we had questions in between our sessions, she was happy to help us out. To this day we keep in touch with her as she looks after our Sonny when we are out of town.
Suzanne's knowledge and love of dogs is quite evident as soon as you meet her. We are very fortunate she came into our lives!
Jenny, Andrew, Alana, Jake and Sonny Abrams